Notes are presented in reverse chronological order
29 May 2023
Changing the resource type of a job within an assignment group now changes the resource type of all jobs within the assignment group as well

Mostly back-end improvements and other non-user facing fixes
23 May 2023
General improvements
Switch the order of custom field title and activity name in the job importer, to make them easier to distinguish
Visually indicate that all jobs within an assignment group on week view are completed

Bug fixes
Fixed an issue where the Location Owners filter on Field View sometimes returned hidden companies from other hubs
Fixed an issue where changing the assignment of a single job within a group did not update all jobs within the group
16 May 2023
Bulk update improvements:

Can now update "add to project", "destination" and "pickup locations" on completed jobs

Updated the bulk update sidesheet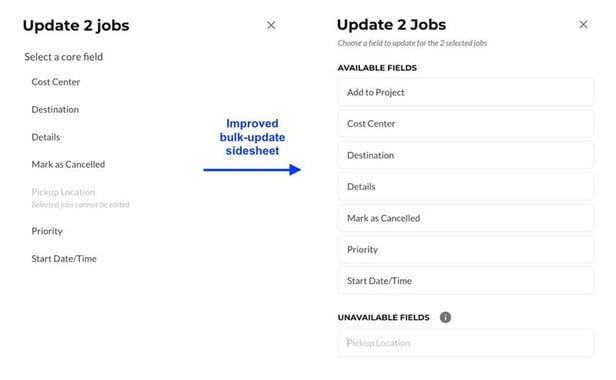 Added comments explaining why fields may be unavailable/why no fields might be available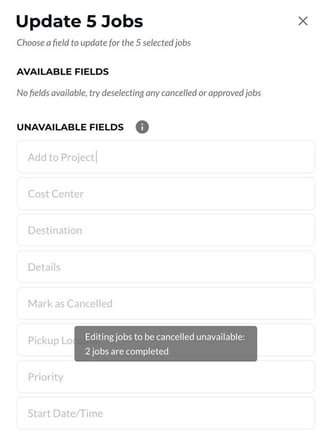 Assignment group improvements:

Fixed an issue preventing dragging an assignment group from a Service Provider Resource to the same Service Provider/Company row
Added assignment group to the job PDF
Users can now search by assignment group from the jobs list
Users can now can create new assignment groups when importing jobs via the flatfile importer
Disallow all dragging of completed and cancelled jobs on Week View
Disallow adding cancelled jobs to groups
Bug fixes
Fixed an issue where some dropdowns were not sorted alphabetically (case insensitive)
Fxed an issue where the form submission lat-long location reset to the tenant center point when editing a form submission
Fixed an issue where, on the jobs list, the row corresponding to the open job sidesheet was not highlighted
Fixed a bug with editing completed times: the "job_planned_actual_times_editing" feature flag can now be turned on everywhere
9 May 2023
Performance improvements of various job endpoints
When bulk-updating jobs, users are no longer allowed to change job selection if the bulk update bottom sheet is open
Week view job card sizing improvements
Job display positioning changes based on various logic factors
Assignment groups with completed/cancelled jobs can no longer be reassigned until those jobs are removed from the assignment group
Bug fixes
Various fixes on the CSV export and job list
Fixed an issue where the completed read-only job sidesheet did not immediately show edited inventory + quantity values
Various fixes for active duration displays
Fixed an issue where you could not add a pickup location on a completed job
Fixed an issue where custom field values were not properly sanitized when the division or activity on the job changed
Tooltip on day view now says Requester instead of Customer
4 May 2023

Inventory associations can now be as granular as a single option per Resource type Activity.

ie) Fluid Haul > Haul Oil will now have the option to default the inventory item to Oil
Previously it would "suggest" from a set of options but users could choose from any other inventory available in the system.

How it works:
Both Resource Type and Activity must be selected before inventory can be added to job.
When creating a job with:
No associated inventory (such as maintenance tasks)

the inventory section is not auto-added
you are always able to manually add inventory items

all inventory items in the system are available

A single associated inventory item (such as Hauling Oil or Water)

The inventory section is auto-added to the request
The inventory item is auto-populated

If configured, only this single inventory item is available

Multiple associated inventory items (such as Pipe Hauling)

The inventory section is auto-added
No item is auto-populated

Only the configured inventory items are available to select from
*We are planning to release the mobile app with the new RTA-Inventory functionality on Monday. Until users upgrade, the old associations will still function as before.
1 May 2023
Job Importer now supports custom fields



Removed complex custom fields from the jobs list to reduce confusion

arrays, objects, and markdown fields are no longer available as columns on the jobs list
*Bug Fix* Active duration logic in CSV export has been modified